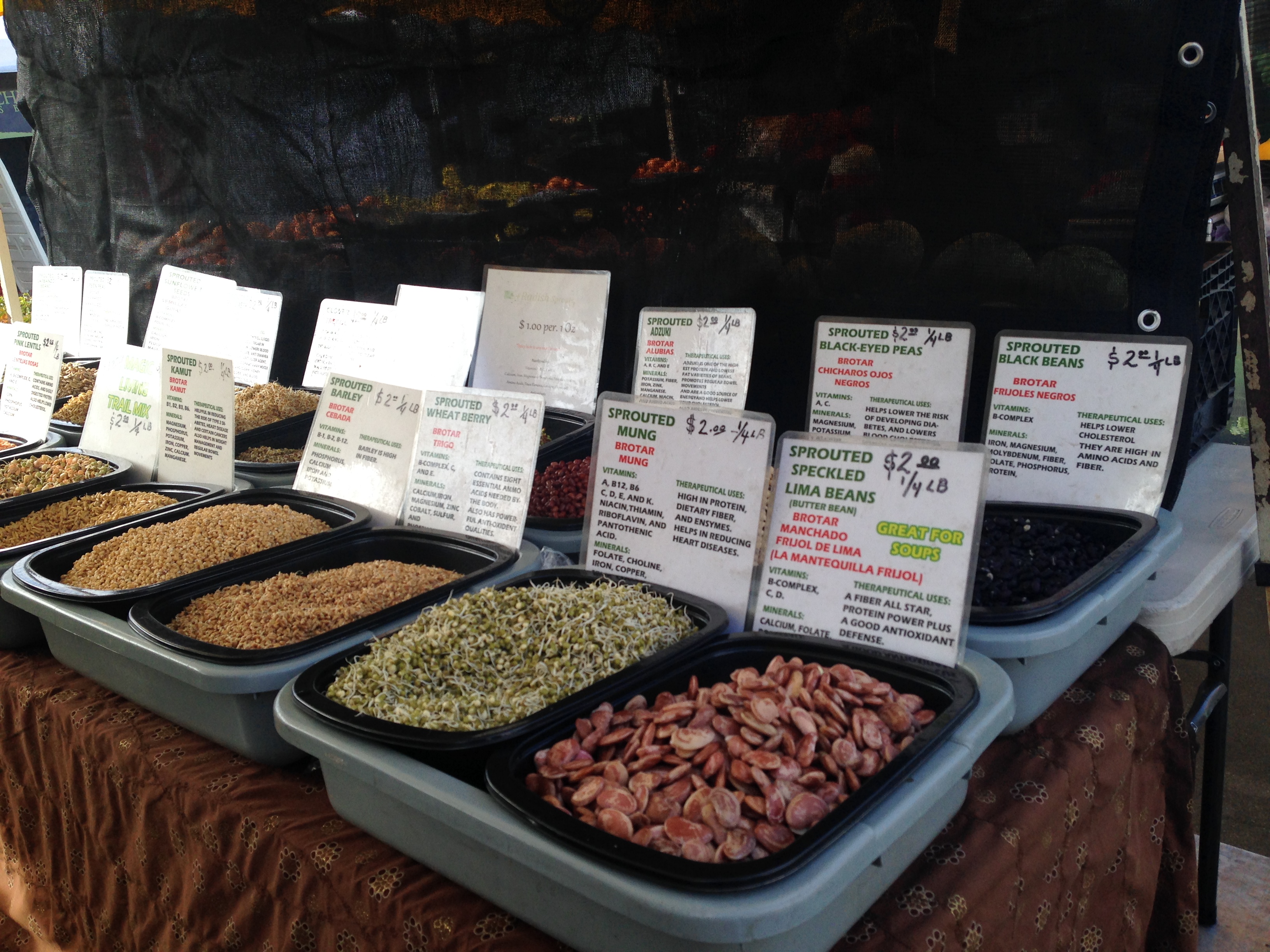 Vendors sell more than just fruits and vegetables at the Baldwin Hills Crenshaw Farmers' Market. Many vendors also offer specialty nuts, cheeses, yogurt and jarred products. Photo by Chelsea Stone.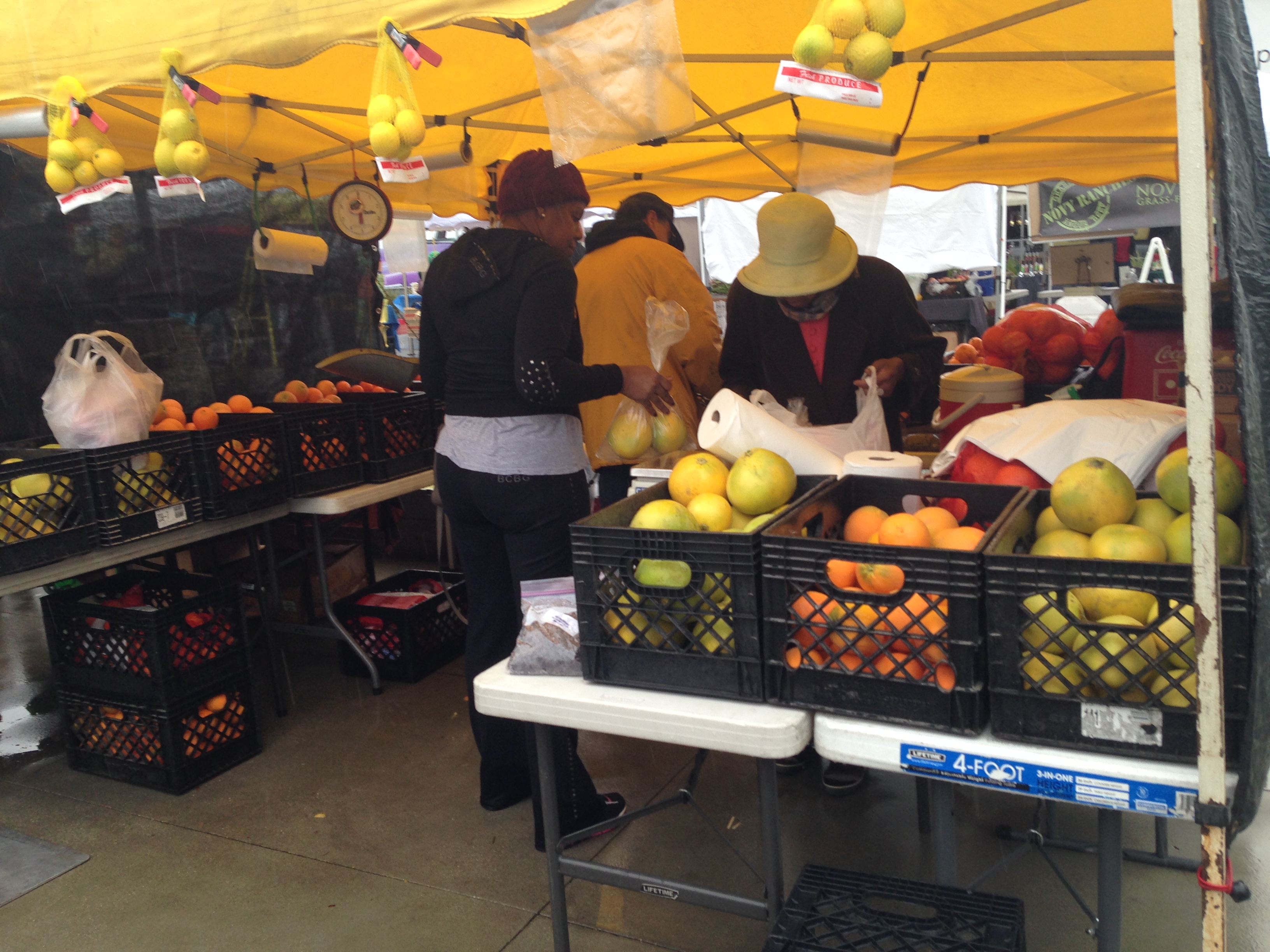 Different fruits are sold year-round at the farmers' market depending on what is in season. Some vendors specialize in one type of produce, such as citrus fruits. Photo by Chelsea Stone.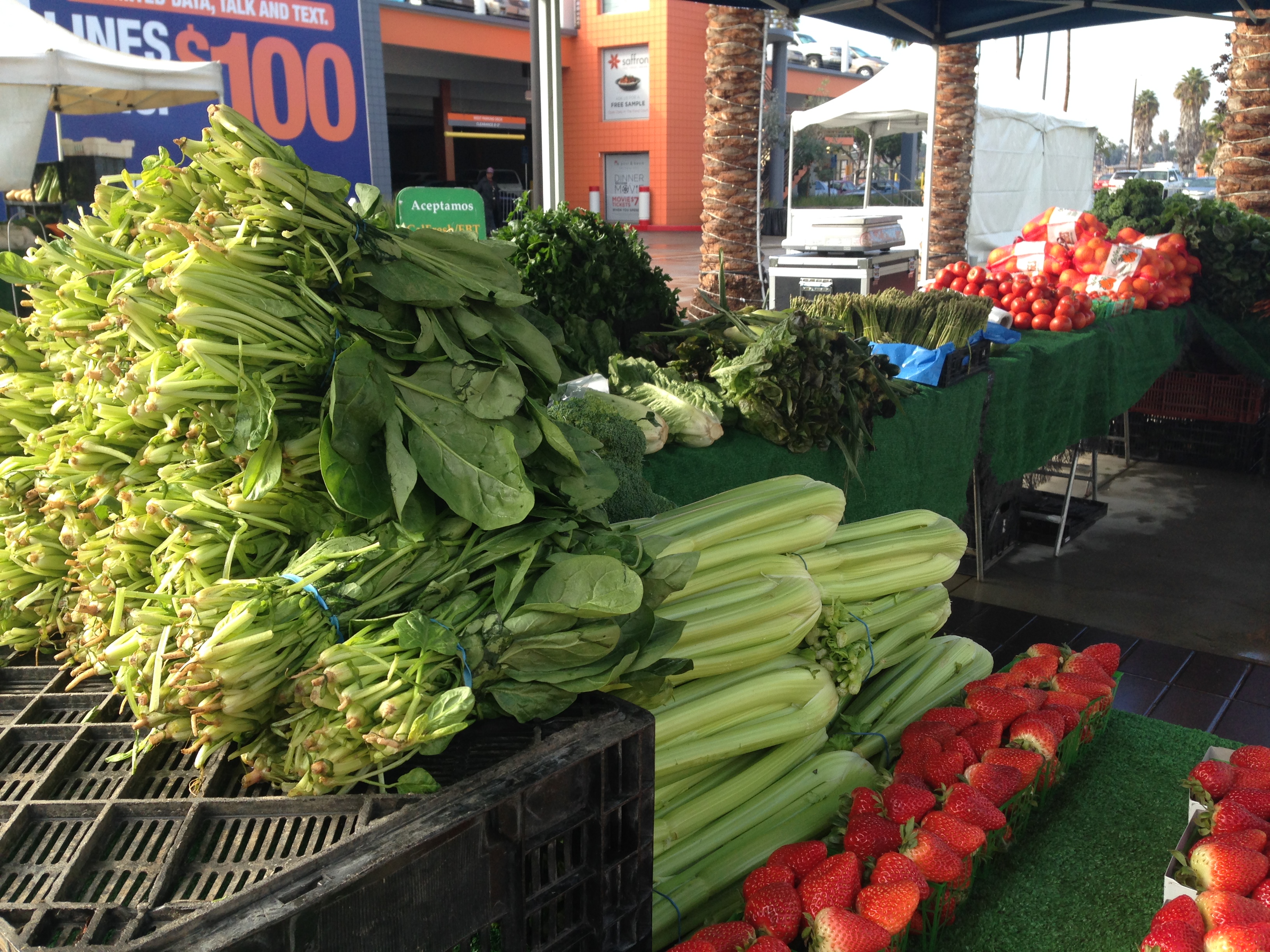 Most vendors said they arrive early to the farmers' market to set up, a process which usually takes about 45 minutes. Photo by Chelsea Stone.
Bright yellow signs all around the Baldwin Hills Crenshaw Plaza advertising the weekly farmers' market on Saturdays say in bold letters, "Rain or Shine!" They mean it, too.
It's 10 a.m. on a rainy Saturday morning at the Baldwin Hills Crenshaw Plaza in South Los Angeles, but Rosio Buenrosio has already been awake and standing outside in the wet weather for hours. She drove more than an hour from Castellanos Farms in Riverside and arrived at 8 a.m. to the promenade outside Rave Motion Pictures to set up her stand and produce display for the Baldwin Hills Crenshaw Farmers' Market, currently in its eight year in the community.
Buenrosio's farm is one of about 30 vendors who sell food from 10 a.m. to 3 p.m. at the market, which found a new permanent location outside the movie theater only two and a half weeks ago. The market at the Baldwin Hills Crenshaw Plaza is run by the non-profit Sustainable Economic Enterprises of Los Angeles, or SEE-LA. The organization operates seven farmers' markets around Los Angeles, and the Baldwin Hills Crenshaw market is the oldest of the three markets in existence in South L.A.
Marie-Alise de Marco, SEE-LA's market manager for Baldwin Hills Crenshaw, said that the area surrounding this particular market is especially in need of more healthy food options.
"Los Angeles is a very segregated city and I feel it's something people don't want to talk about. There is still a political divide and a color barrier and inequity in South L.A.," de Marco said. "There seems to be neglect on the part of city planning and foresight. They have lovely communities but then they decide to put an incinerator in the middle of it or a plant. City planners and politicians weren't keeping in mind these tax paying citizens, and along with that you have a lack of supermarkets."
According to de Marco, a supermarket in Southeast Los Angeles serves 24,000 residents, as opposed to 11,000 on the west side of the city, making South L.A. what is known as a "food desert."
Fresh and organic foods are often more expensive than packaged foods sold at grocery stories, but the farmers' market allows customers to apply their Electronic Benefit Transfer (EBT) card to purchases, meaning that those who rely on government welfare programs have access to healthy foods at the market.
Vendors at the farmers' market sell everything from fresh fruits and vegetables, to specialty spices and cheeses.
"The big stores have no interest in carrying anything fresh because they want to carry stuff that's going to sell for them. I'm not faulting them because we need supermarkets, but they don't focus on fresh foods," de Marco said.
De Marco said all the food at the market is grown within a five to six hour driving radius from where it is sold, in counties like Riverside – where Buenrosio is from – San Bernadino, and Fresno. Vendors, many of whom sell their products at other farmers' markets, must apply to sell at the market and be certified growers. SEE-LA also provides famers with services to streamline the business aspect of the market, such as accounting assistance, securing locations and advertising.
The market recently moved to its current location after being situated in the same Baldwin Hills Crenshaw Plaza in the Sears parking lot because vendors said that no one could find the market there. Several years ago, before the construction of L.A. Live, the market was located near the Staples Center.
Jerry Mouradian, who has sold avocado oil at the farmers' market for more than three years, said his experience with customers in the area and their response to his product has been overwhelmingly positive.
"My experience is more family oriented. I trust them, they trust me back. They say they'll pay me next week, and 99 percent of the time they'll pay me next week. The community here was nice, they're educated, they read the fine print, they want to know what they are buying, and that's what I need," Mouradian said.
Crenshaw resident Francis, a social worker who asked not to be identified with by her last name because of her profession, said that she notices disparities between foods available in her neighborhood compared to the rest of Los Angeles, which is why she shops at the farmers' market.
"I'm in all different types of neighborhoods and I see the difference between the services and the products that you can buy in other neighborhoods that you can buy in a mostly black and Hispanic neighborhood, even in the price. It's unfortunate. I was hoping they were going to put a Trader Joes over here, but it's not going to happen," she said.
De Marco said SEE-LA is trying to increase the visibility of the market in the community and hopes to bring a merchandising expert in to suggest improvements. Meanwhile, more the market is seeing more and more visitors each week and even exceeded budget expectations this quarter.
"We have friends and family of the market. We have people who have been real advocates. But there is still room to grow," de Marco said.