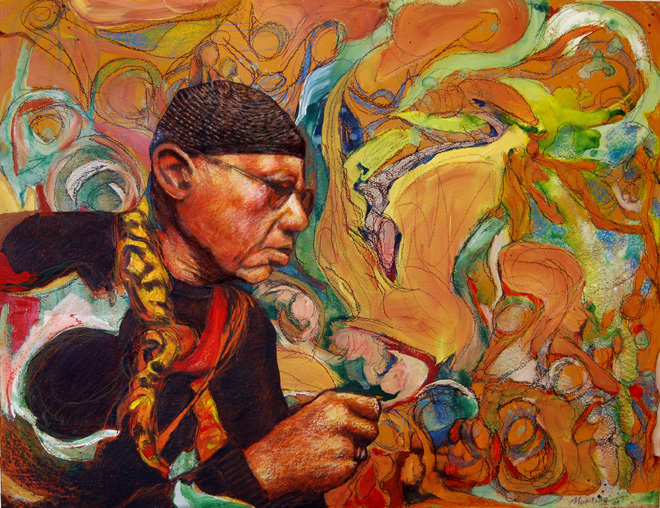 'Roots Before Branches' collection
A piece of art from Massenburg's 'Roots Before Branches' collection that is symbolic of African American heritage, and the culture surrounding the Crenshaw/Los Angeles area.
"Art that will make you 'Stop and Stare'"
Is Los Angeles in need of new locations for local artists to express themselves? Critics and residents will argue to both sides of this issue, but one matter will remain the same, the Los Angeles Metro system is encouraging a new creative outlet for citizens with artistic interests.
Metro stations around Los Angeles are now promoting a version of this art around some of their expo-line locations as a way to enhance the Los Angeles community.
"The purpose for these new art developments is to inspire hope in Los Angeles," a Metro spokesperson said. "We are making steady strides to ensure arts and culture improvement will continue to happen throughout greater Los Angeles."
The organization's goal is to recruit local Los Angeles artists as a way to a 'beautify' train stations along the University of Southern California/Crenshaw Metro station stops. In early 2012, when the Metro first decided to start this initiative, thousands of artists applied to hopefully have their art tell a story on the diverse streets of L.A. After careful review, one artist was chosen to change the face of the Farmdale Metro station with his "All in a Day" piece, a man by the name of Michael Massenburg.
Massenburg is an African-American street artist who looks to "tell a good story" with each piece of art he creates. He has performed work for major companies like Disney, ESPN, and other various universities around the California area; however, his true passion is for art that depicts snapshots of daily life.
"I've only been doing art for about 20 years in a serious, focused way," Massenburg explained. "I feel like I have always been on a path, a journey, where I have been being pulled toward something bigger. This project I feel was my destination."
His work has correlations to hundreds of other artists who have come before his time, but is also extremely modern and unique to the eye.
"With the Farmdale station specifically, I wanted to paint a picture of the local community," Massenburg said. "I drew off many different people's experiences and life-stories to create something truly unique."
"All in a Day" is a tribute to the people, place, and stories that make up the neighborhoods spidering out just below and beyond the railway—the stretch of track that is now re-stitching the city end-to-end, East to West.
"That's home," said Massenburg. "Everything I did in my early years helped prepare me to work on this project. I was meant to work on this one."
One area in which Massenburg drew major inspiration for this task was from the neighboring educational institution, Dorsey High School. The artist not only devotes much of his time to his craft, but also mentors young students. It was through these mentorship opportunities that Massenburg met many fascinating people who he claimed helped inspire his Farmdale art.
"I am always on the lookout for newly found motivation and ways to keep my creative juices flowing," he said. "There are no greater people to learn from than children, so considering I spend lots of time with the younger generation, much of my work is symbolic of these kinds of people who impact my life."
At the expo stop, Metro riders will find 12 different 5-foot art panels displayed in the air next to the tracks. These panels are meant to take anyone passing by on a type of "spiritual journey" just with one quick glimpse, whether they realize it or not.
"The portraits displayed at the entrance to the station are an entryway that can help transport anyone who passes underneath to another dimension," Massenburg adds. "They are intended to make people feel warm and welcomed."
Massenburg has much history to draw on just based on his own time located in the Los Angeles area. Details from his art have been plucked from various places all around the city.
"Whenever I see his pieces they make me proud to be a Los Angeles citizen," L.A. resident Rahil Haneef said. "Each time I board the metro at the Farmdale station I feel a sense of pride for my hometown in my heart."
As a traveler continues their way down the Farmdale station path, they will encounter art panels of varying size and color.
"I feel that the shade and contrast of coloring in any picture is crucial to accurately getting your point across," Massenburg said. "That is why you can see large variations of both elements in my pieces."
The panels move from light reds, oranges, and green shaded colors near the entrance to deep purples, blues, and black when approaching the end of the station. This transition he said is relatable to people's emotions; meaning, everyone goes through different moods throughout the day that he tried to capture through his art.
The textures in which the portraits are created are also a unique transition from traditional art; they are all done in mosaic tile. The tiles are all around a centimeter in size, separated my millimeters of space, to create one finished large product. The panels were first hand-made as a type of big drawing, before they were overlaid onto a panel, which was then garnished with colorful tiles.
Massenburg's creation will be displayed for expo-line riders to view for many years to come. Daily Metro commuter Rosa Gonzalez said she could not imagine her work route without his art on display.
"Although it's not much, the intricate art I see everyday on my way to work at the Farmdale station makes waking up early in the morning and riding the expo-line a little more enjoyable," Gonzalez said. "I thoroughly appreciate the effort this city and local artists are putting into the Metro stops because it is improving our way of life."
In the future, Massenburg said he would be happy to contribute to a similar cause if given the opportunity.
"When working on this project, I only was given about three weeks to complete these pieces," he said. "Even though it was a quick and stressful deadline, the results I have seen and the reactions from Metro riders already give me hope that my art is actually becoming something more than just a pretty object to look at."
The Metro organization is currently working on improving other expo stops in the area. The company hopes to have similar successful art outreaches throughout their downtown locations within the next five years.
"I remember hearing when I was younger that you can become anything you want in life if you set your mind to it," Massenburg said. "I never thought becoming an artist was in my path, but I have been inspired to tell other people's stories—that is my mission and the reason I believe I have been placed on this Earth."