Dance in South L.A.
Debbie Allen Dance Academy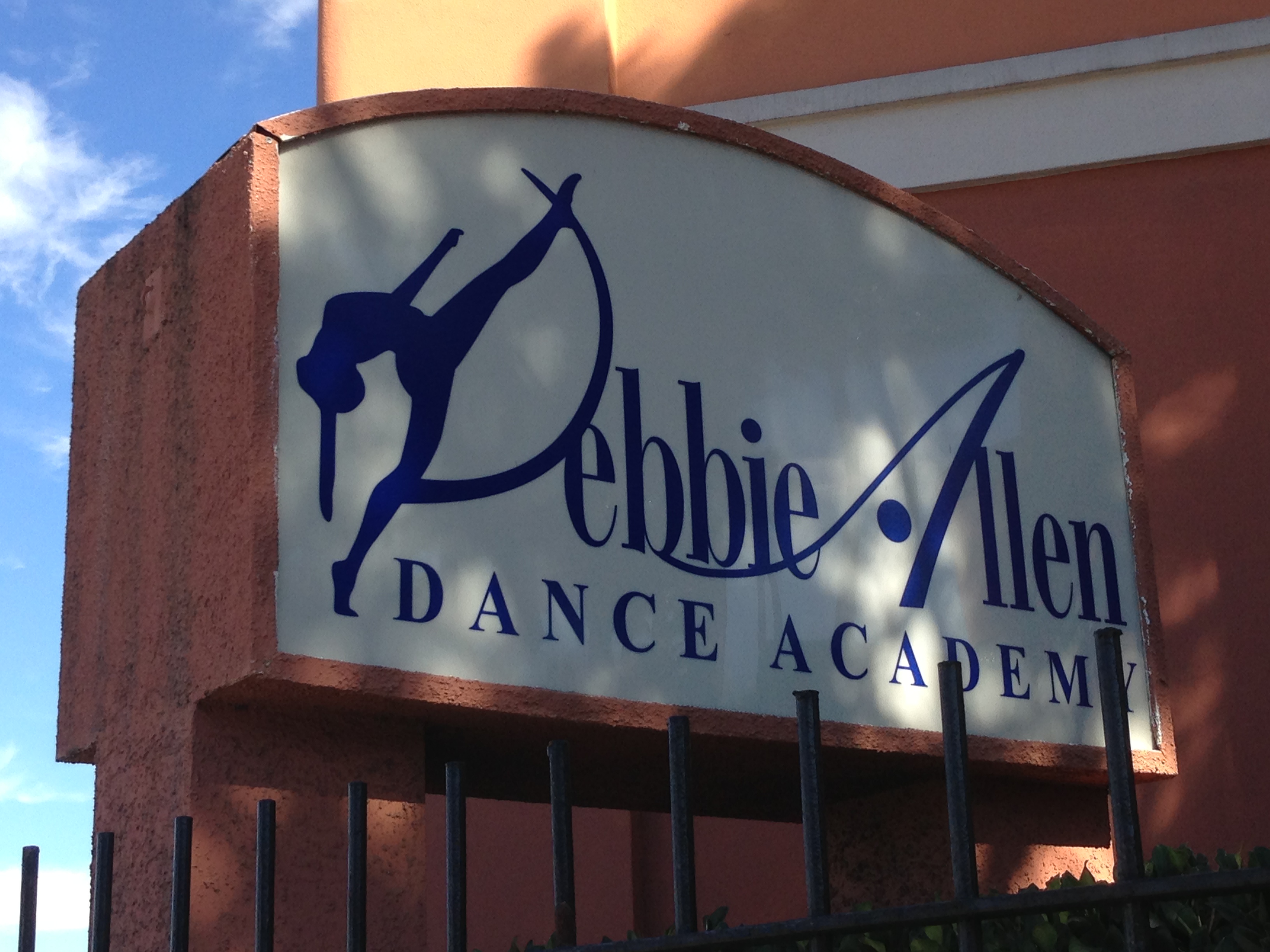 The studio's main sign located right outside the front enterance.


December 11, 2013
By: Kimberly Leoffler
Just south of Martin Luther Kind Blvd. in South Los Angeles lies one of the premiere dance programs in the city. The Debbie Allen Dance Academy has only been open for about 12 years, but in that time Ms. Allen's skills and expertise have brought the studio into the national eye.
Ms. Allen is a well-known figure in the dance world and, according to her studio's website, is "one of the most respected, relevant, and versatile talents in the entertainment industry today."
| | |
| --- | --- |
| | |
| | Students from DADA performing on "So You Think You Can Dance". |
She is able to give her students the most professional training because she herself trained with the very best. Lauren Toblen, the studio's publicist, said that Ms. Allen trained with Bob Fosse. "She was hand picked by Bob Fosse," she said. "I've heard her tell stories, she actually met and auditioned for Bob Fosse. So when she teaches someone 'fossesque' technique, its because she learned from the master."
That quality of training is something she wanted to bring to the children in Los Angeles because she noticed a need for a dance outlet in the city.
According to the studio's website, she had to send her thirteen-year-old daughter to train at the Kirov Ballet "because there was no 'Academy' that had the kind of training she needed."
To provide that necessary training, Ms. Allen and her husband, Norman Nixon, opened the Debbie Allen Dance Academy, or DADA, in 2001. The website defines their goal as "expanding the reach of dance and theater arts for young people in the greater Los Angeles area, and the world, enriching and transforming their lives."
The physical location of DADA was a thoughtful decision. Although the studio moved from Culver City to Crenshaw Plaza in 2009, "it is right in the heart of the community," Toblen says. "Its a diverse community yet its not an elitist, you know its not Beverly Hills or Malibu or anything like that. There's a lot of culture and flavor in that area already. So just even driving there its a different energy."
| | |
| --- | --- |
| | |
| A piece about Ms. Allen working with Spielberg on "Amistad". | |
The dance school offers different four different levels to best meet each individual dancer's needs. The Early Bird classes are introductory classes for students ages four to seven. Red Birds are hand selected by the staff and are for advanced Early Bird students who need a little more training before moving onto the next level.
The Pre-Academy is for students ages 8 to 18 who want higher training, but do not want to make the time commitment of the main program. The Academy, the main program for serious students, offers students ages 8 to 21 the skills they need to excel as a professional dancer. The students are trained in many different styles of dance ranging from Ballet to Flamenco.
Click here to see a slideshow about DADA.
The school's staff is top notch. "There's a teacher now who's in residence who has trained, or she was from the Bolshoi Ballet and she's a pretty amazing, brilliant dancer, ballerina. So she's there teaching the students and really really elevating their skill," Toblen says.
The school also offers a number of summer intensive programs for students of all levels to continue their training while not in the regular school year.
While a focus of the school is the dance training itself, Ms. Allen also focuses on developing her student's professionalism. "I think work ethic is something that she really teaches and looks for and develops in her students and you know not everybody has that," Toblen says. "I think the education, training, direction and guidance that these students get really puts them leaps and bounds above the others in terms of developing their professionalism."
| | |
| --- | --- |
| | The Debbie Allen Dance Ensemble performing at the 2011 "All Star Gala". |
Ms. Allen developed a strong sense of professionalism after her many years working in the entertainment industry. She has received a number of Emmy awards for her choreography and her role as "Lydia Grant" in the 1980 movie Fame. She continued the role during the television series that followed. Besides acting, Ms. Allen also directed a few episodes of Family Ties and produced Spielberg's Amistad. She also has appeared as a guest judge on So You Think You Can Dance.
The school has had a number of students become professionals after their time at DADA. "They really take what they learn there and fly," Toblin says. One of those students is Corbin Bleu, who just finished in second place in the most recent season of Dancing With the Stars.
Ejay Menchavez occasionally takes some of the open classes at DADA and can see the amount of professionalism Ms. Allen enforces. "There's no talking, no dilly dallying, no disrespect. Once the class started no one said a thing," Menchavez said.
Menchavez has taken classes at other studios around Los Angeles and noticed that there was something different about DADA. "When the class is over, its all love. I don't know anyone in the classes ever but by the end of it we're all friends," Menchavez said. "There's no family feel in a lot of outside classes. I go, take class, and leave. Maybe say 'hi' to some people I know. At Debbie's, I took class and ended up saying 'hi' to everyone. I danced with everyone in the room, not just by myself in the corner."
| | |
| --- | --- |
| | |
| Flyer and photo from "The Hot Chocolate | Nutcracker". Courtesy: http://debbieallendanceacademy.com/ |
Ms. Allen also gives her students performance opportunities. This weekend, Dec. 14 and 15, she will be holding her annual Hot Chocolate Nutcracker at UCLA Royce Hall. "It's a modern twist on the Nutcracker story and it infuses all different types of dance," Toblen says. "There is also an annual recital at the end of the year."
The DADA Ensemble, a performance group Ms. Allen created four years ago and made up hand picked students from the school, also perform at events throughout the year. One of those events is the All-Star Gala coming up on Dec. 12 also at Royce Hall.
Toblen said that there's something unique about Ms. Allen's performances that make them memorable. "Every time I go there and I think I'm going to see something cute and nice, it's always dazzling and mind blowing. I mean it really is," she said. "She turns people into really brilliant all around performers...They just have stage presence and I think she helps bring out their charisma and just helps them achieve their personal best."
For more information about the Debbie Allen Dance Academy and to get more information about classes and performances, visit their website.
Have you been to DADA? If so, what did you think?
Contact the author here.